CHORD is well known in the highend audio industry by their renowned QBD76 or classic DAC64. However we portable audio users think CHORD is in the another league to us.
Now CHORD announced new product called "Hugo". Hugo is a portable gear which is a high performance DAC-Amp combo with a bunch of great features.
Now we get a high-end sound never had before in our hands.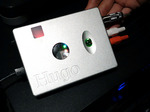 To my surprise, CHORD stated the Hugo product is a reference grade product which is regarded as a highest class in their range. This tells us they are serious about Hugo sound quality.
Yes Hugo is a cutting-edge product.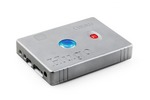 DAC portion of Hugo employs Pulse Array DAC circuit that is well known among CHORD DAC products. Pulse Array DAC is not an off the shelf ready-made product like Wolfson or ESS DAC chips. Instead the Pulse Array DAC is composed within the FPGA. Hugo's pulse array DAC circuit is the new generation of CHORD Pulse Array DACs.
The name HUGO comes from a play on words, it is "Wherever You Go" that means portable product.
*
We had a Hugo preview show at Tokyo Timelord showroom.
Timelord is the Japanese distributor of CHORD product. CHORD founder John Franks came to show us the proto type
of Hugo. I interviewed him some queries. Here is the movie of the interview.
http://www.youtube.com/watch?v=trypeVPenSE&feature=youtu.be
http://www.youtube.com/watch?v=fJWnhIRw9HM&feature=youtu.be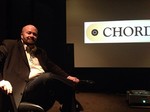 John Franks is a founder of CHORD electronics. He used to work on designing power supply of aircrafts. At CHORD, John is responsible to products concept. As for digital matter, Robert Watts is fully responsible.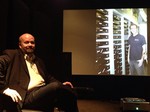 John met Robert when John was at a recording studio installing his amplifiers. Robert showed him his unique DAC which employed the FPGA. It was the origin of Pulse Array DAC nowadays.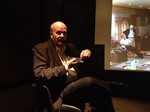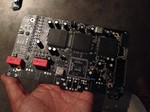 He is holding DAC64 PWB in the picture
DAC64 sounded remarkable but used to get hot. Next QBD76 was improved for both of sound quality and the heat efficiency, thanks to improved FPGA device. QBD won't get hot. QuteHD is a downscale version of QBD76 to bring a size merit of FPGA. QuteHD employs the same generation FPGA but less capacity.
John thought about the situation of current audio industry and he saw that SONY released a portable headphone amp (HPA-1), he came to the idea that CHORD should design a portable audio gear. So he asked Robert about feasibility of the idea. It was the start of Hugo product 14 months ago.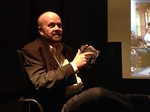 Then Robert Watts brought an idea that to use the latest FPGA called Xilinx Spartan-6. The most improved point of Spartan6 is a heat efficiency and low power consumption as well as a compution performance.
Speaking of performance of the CHORD FPGA, refer to the tap value below. Higher is better.
DAC64 1024
QBD76 17000
Qute 8000
Hugo 26000
Looks like Qute is a scale down version of QBD so the tap value is also lower. But Hugo is better than QBD76 in specification thanks to its improved FPGA. Hence CHORD stated the Hugo is the reference product. Hugo also supports THD -140dB ! This is an unbelievable spec even in all the audio product's not only limited to portable products. John told us "When Robert showed the first Hugo prototype, it seemed like something from another planet".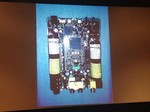 Notice the large batteries of Hugo. These ensure a good run time.
CHORD also implemented an advanced digital volume control with FPGA.The volume is very accurate and precise, almost no data loss would be found. An optical encoder is used in the volume.
*
Highlights of CHORD products are an advanced digital circuit like Pulse array DAC, WTA filter and they also features high quality power supply. Aircraft grade machined aluminum body is also a CHORD signature.
Hugo has all of this. There is no compromise.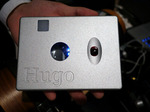 In fact, this advanced power supply is very useful for portable gears that has a severe power restriction. It can be said the CHORD had an elemental technology for portable gears. Another elemental technology is a low power consumption in order to make a portable gear. New Spartan-6 FPGA made that possible.
For example, DAC64 use four Xilinx FPGA consume 3.3V/8W power that could go up to almost same temperature as a human body.
New sixth generation Xilinx Spartan-6 of Hugo consume only 0.7V. Spartan-6 equip high efficiency switching regulator which is free from switching noise. It keeps power consumption low even in a high load condition.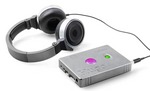 Not only in the power section but also the improvement can be found in the performance section. Hugo WTA filter runs 1.5 times faster than QBD76 using 26000 taps. That reaches up to THD -140 dB that had never been possible to achieve even with full size gears ever. John said that as a designer he was amazed by this result himself.
Newest digital technology has been fully implemented into this small package.
Until now only obsolete technology has been used for portable gears. But Hugo is different. Hugo employs the latest technology which never used even in high-end audio world. This is the proof of reference class of CHORD.
*
Here I recap the spec of Hugo. The casing is CHORD signature aircraft grade machined aluminum. Hugo only accepts digital signal. They are optical(TOS), SPDIF, USB(two types) and Bluetooth.
TOS is 192kHz capable and SPDIF is 352/384kHz capable. Hugo has two different USB inputs, one works for iPad or smart devices that accepts only 48kHz 16bit via USB Audio class1. Hence we don't need to install any drivers. This one runs off self-power supply from Hugo battery so we don't have to worry about iPad/iPhone current limitation.
The other one works for computer audio with higher data rate up to 352/384kHz at 32bit. To use this USB, we need to install CHORD driver.
(But you never know, when the CHORD finalize this product, you may see more improvement to this spec!)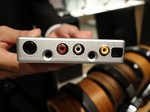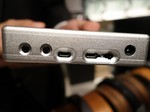 Hugo also accepts DSD natively up to DSD128(5.6MHz).
It requires (We need) DoP to enable native DSD transmission. Bluetooth accepts decent APT-X codec for good sound reproduction. Hugo employs metal body but Hugo has a plastic window to pass thru BT signal that enhances transmission efficiency. I feel the wireless transmission is a desired move for this smartphone age. We used wired connection in iPod age but in this smartphone age the wiring is not a proper method I think. BT said to have poor sound but CHORD has been studying carefully about the implementation of BT device these several years. Hugo is the one of the result came our of their study.
Speaking of output plugs, Hugo has two mini(3.5mm) headphones plug and a 1/4 headphones plug so you can use Hugo either at home or on the go. Hugo has one pair of RCA analog out terminal so you can use Hugo as a decent USB DAC at home. In fact Hugo would also be a good "first CHORD" for many people.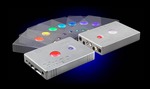 Multi color LED tells us current sampling rate and volume level. CHORD's unique round window is illuminated by the LED and so as well as the volume control knob. As I wrote earlier, Hugo has an advanced digital volume which retains minimum data loss as possible.
Battery lasts around 12 hours. Full charge will be completed in two hours and one hour charge is enough for casual use.
The amplifier section is analog circuit not digital amp. Amplifier circuit is another highlight of Hugo. Output power is strong enough to drive even the loud speakers that has 8 ohm impedance.
*
John Franks came to see how Japanese portable users use audio gears at the time of previous show. Hence the Hugo has everything what we need to use for portable audio. Analog out is an exception but by considering very high quality of DA conversion
performance of Hugo, it is likely to be used at home too so it's not an issue.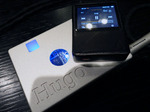 AK100mk2 hooked up with Hugo.
The blue light square is the BlueTooth antenna window.
Hugo can be hooked up with various audio gears. For example, PC USB connection, optical out of AK100 or SPDIF out of DX100 and more. In addition to that, Hugo is able to hook up with iPad and iPhone(iOS7 or later) thanks to dedicated 48kHz USB input via camera connection kit. Some of Android phones would be feasible too. (Androids would need USB OTG cable)
Bluetooth is useful with smartphones and tablets. I guess one of the reason why BT sounds poor is a sake of poor audio circuit design of budget gear besides the SBC lossy transmission codec. However, the implementation of Hugo is different. Hugo does not use the poor DA conversion in the BT chip. Instead Hugo directly take digital signal from BT chip. That means the BT signal will be converted by Hugo's marvelous Pulse array DAC section. In addition, Hugo accept APT-X decent transmission codec.
The result would change your mind about BT.
You can use Hugo as a decent USB DAC from your PC. Hugo supports -140 dB of THD so you may want to replace your home rigs with Hugo!
In fact, I tried Hugo with CHORD's fine home DAC and amps with high-end speakers to test the home audio ability of Hugo. Then I was amazed by the sound quality that Hugo could deliver. It was a truly high-end sound and it is well comparable to good home rigs. I found Hugo can be a rival to home DACs.
I can hook my iPhone5 up with Hugo (We need iOS7 to do so).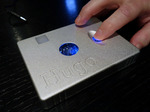 Volume control is a round knob on the top plate. You will see color changing along the knob movement.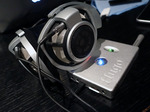 Sennheiser HD800 and Hugo.
I tried Hugo headphone sound using Ultrasone Edition 8 and Sennheiser HD800, they are the finest rigs in the headphone world.
Hugo delivers crystal clear and accurate sound that is very transparent and pure like fountain water. Highs and lows are both well extended so I could feel very wide frequency range. I also felt good PRaT in the fast paced music. The instrument notes are well separated. Hugo sounded very sharp, articulated but no harshness there. Yes I felt the sound of Hugo is highly resoluted but very smooth at the same time. This may be similar to the feeling of a virtue of audiophile's beloved DAC64.
I think the amp section is very nice too. Because the sound is thick and rich. It reminds me of a good home audio system sound. An impact of bass and drums is tight and well controlled. Hugo is able to drive high impedance HD800 very well.
I think the "sharp while natural" sounding is a proof of high quality audio gear.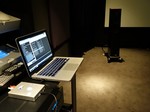 Hugo hooked up with CHORD amps and Raidho Acoustic speakers.
*
In recent years, portable audio is getting popular and a demand of high quality gears are also
increasing. Hugo costs almost 1000 UK pounds that may be a bit expensive for portable audio however it is still a bargain price. You will understand it from what you see in this document. I think CHORD gets almost no profit at this price point.
Hugo raised the bar of the portable audio quality. To sell outstanding quality gear comes from a philosophy of CHORD. That is CHORD.
John told us the strength of CHORD is a passion to seek perfection. No compromise there. Hugo to break up current portable amp league and start new era. That is no amp reached ever.
Hugo would be a turning point to change audiophile's mind. Portable gears are now on the same ring with speaker listening highend audio gears.
Now we have a portable amp that has THD -140 dB. A history of portable amps has started by small starup manufactures then major manufactures came in like FOSTEX or SONY. Finally we have a high-end audio manufactures too. I see a strong growth in this portable audio world. This must be a good thing for us.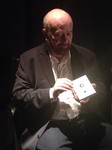 Lastly John Franks said:
"I hope you like my little baby. 40 years ago people listen to realistic sound of stereo system they never had before and they showed a lovely happy look on the face. With Hugo it gets the same responses. It's a pure pleasure for me"